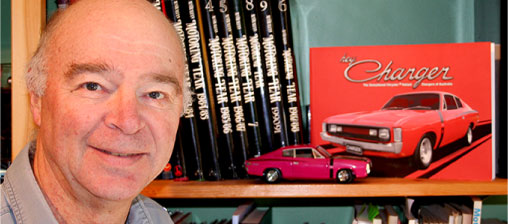 Welcome to Ilinga Books, home to independently published books. We currently have books written and published by motoring historian and author –– Gavin Farmer.
Ilinga Books is the brainchild of successful business manager, writer and motoring historian, Gavin Farmer. Dissatisfied with the standards of publishing on the market, Gavin set out to create and publish books to his own high standards. High quality presentation surrounding solid, well thought–out material.
Named after the aboriginal word for 'over the horizon', which is where Gavin's vision of the company lies, Ilinga Books has been several years in the making. It is the place where the author can bring his vision of what a great book should be to the reading and car buying public.
Sales of the first book – Leyland P76: Anything but Average – have been fantastic. Available in hardback and limited edition leather bound signed copy, this self–published book has already exceeded expectations since going on sale.
Following that success Ilinga Books has released more titles that are important in Australia's post-war automotive history in Great Ideas in Motion: The History of Chrysler in Australia 1946–1981; The Holden Monaro: It's a Legend. And now we have two new titles: Hey Charger: The Sensational Australian Chrysler Valiant Charger and Dead Ends and Duffers.
Both are quality publications, the Charger book being a thorough update of the previous best-selling book now with a hard cover and a limited edition with a padded leather cover that will be numbered and signed.
There are plans for many more high quality books on motoring history, most with an Australian emphasis.
Looking to the future, there are plans to add more books and more authors to the Ilinga Books stable. There is also the vision to sell model cars to accompany the car books.
Gavin Farmer certainly has a keen idea for this publishing company, a vision over the horizon, Ilinga Books.