Gavin Farmer – author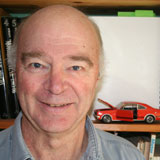 Born in 1945, Gavin has been married for over 50 years, has two adult sons, and three adorable grandchildren. He lives in the picturesque Adelaide Hills, South Australia, tinkers with a Subaru ff–1 Special in the back shed, and is a supporter of the Adelaide Crows AFL team.
He worked for Chrysler before working in the retail section of the automobile industry through the 1970s which is when he began his extensive library and model car collection.
During the 1980's he was State Manager for two companies, one in educational publishing and the other in the computing industry. Both careers were successful, particularly that in computing where he marketed computerised dispensing systems for pharmacies.
Gavin then returned to the automobile industry where he was the National Media Relations Manager for a large multi–national company until 1995. Since then he has concentrated his energies on becoming a full–time freelance motoring journalist and author.
Gavin's first motoring article was written and published in 1981 in Automobil Chronik in Munich, Germany by Halwart Schrader, still a good friend. Since that humble beginning Gavin has had many, many articles published in magazines as diverse as Sports & Classic Cars of Australia, the prestigious Automobile Quarterly, Collectible Automobile, Sports Car International, Bimmer and The Automobile to list a few.
His writing has taken him to many interesting part of the world, through American and Canada, a lot of time in Europe, and he and his wife lived in England from 2003 through to late 2006. His travels have not yet taken him to Japan, strangely enough, because as he says, 'Editors of classic car magazines do not regard Japanese cars as potential classics.' This is a view he is aiming to change.
While living and working in England Gavin wrote the book Porsche Boxster: The Complete History; most of the  book The Holden Monaro: It's a Legend; as well as the book Legendary BMW Coupes.
It was in England where he met people influential in creating his own publishing company — Ilinga Books. He worked at Brooklands Books and then met John Henry, a London architect who had written books and was looking for a better deal from publishers. Between them they agreed to establish their own publishing company and in 2005 Foilsimid Books was formed. Foilsimid is a Gaelic word that means "we publish."
Gavin is a member of the Adelaide Hills Motor Restorers Club, an Associate Member of the Sporting Car Club, the Armstrong Siddeley Owners Club and the County Austins Club in England, as well as a member of the Jowett Car Club in both England and Australia. He is also an active member of the Stirling Probus Club.
Gavin's favourite modern cars include the Subaru WRX and Liberty. He loves cars with horizontally opposed –so–called "boxer" engines. So much so he is currently researching the subject with the view to writing a book about them. He also loves the NSU Ro80, designed by his good friend the late Claus Luthe, and the iconic Citroen DS.
He is a man passionate about motor cars, and passionate about sharing his encyclopaedic knowledge of cars with the world.